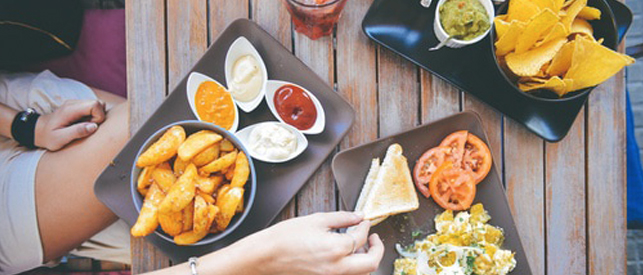 From Tex-Mex to sushi, Central Texas knows how to do food! Here are some of the popular restaurants in the area, but don't take our word for it, go try them out!
Travis | County
Hopdoddy Burger Bar
- Hamburger Restaurant
"Craft burgers ground in-house then paid with local beers"
512-243-7505
Home Slice Pizza - Pizza Restaurant

"Serving authentic NY-style pizza but the pie or by the slice"
Threadgill's - American Restaurant
"Austin wouldn't be Austin without Threadgill's"
512-451-5440
Torchy's Tacos - Taco Joint
"Damn good tacos"
512-494-8226
Evangeline Cafe - Cajun Restaurant
"Serving Cajun & Creole cuisine and Austin's best live music"
512-282-2586
Hula Hut - Mexican Restaurant
"Mexican food with a surfer twist"
512-436-9633
Driskill Grill - American Restaurant
"Rated as one of Zagat's Top 25 Hotel Restaurants"
512-391-7162
Ramen Tatsu-ya - Japanese Restaurant

"The soul food of Japan"
512-893-5561
Eddie V's - Seafood Restaurant
"The finest seafood and steaks"
512-472-1860
Hays | County
Brooklyn's Down South - Creole & Traditional Restaurant
"A simple but elegant atmosphere, suited for everyone"
512-312-4387
Pinballz Kingdom - American Restaurant and Arcade
"Casual rustic dining with a full menu to satisfy any craving"
512-523-4080
Milt's Pit BBQ - Barbecue Restaurant
"Slow smoke BBQ with homemade sides"
512-268-4734
Ilario's - Italian Restaurant
"It's our joy to bring authentic Italian and great NY style pizza to Kyle"
512-268-3300
Root Cellar Cafe - American Restaurant
"Welcome to the true San Marcos artisanal dining experience"
512-392-5158
Centerpoint Station - Hamburger Restaurant
"Just a good ol' burger"
512-392-1103
Garcia's - Mexican Restaurant
"Offering the best service and great food at a fair price"
512-353-0099
Texas Pie Company - Pie Shop & Lunch Spot
"Life is short, eat more pie!"
512-268-5885
The Tap Room - Pub & Grub

"Largest beer variety in San Marcos"
512-392-9824
Willie's Joint- Barbecue and Bar
"Amazing food, awesome atmosphere and great location"
512-295-0483
Williamson | County
Deckhand Oyster Bar - Seafood Restaurant
"Bringing a little of the Gulf Coast to Austin"
512-368-3379
Little Mama's
- Filipino Restaurant
"Authentic, made fresh to order Filipino food"
512-244-6262
Milano Trattoria
- Italian Restaurant
"Simple quality recipes served in a laid back atmosphere"
512-869-0444
Hello Sweetie
- Barbecue Restaurant
"Everything is made to order, the old fashioned way, with love"
512-869-3304
Plaka Greek Cafe
- Greek Restaurant
"Voted #1 in Georgetown 4 years in a row for Best Ethnic Food"
512-863-5008
Greenhouse Craft Food - American Restaurant
"Serving up comfort food with big Texas flavors"
512-366-5567

Hao-Hao - Vietnamese Restaurant
"Fresh, healthy, yummy homemade cooking"
512-388-3322

Juarez Restaurant & Bakery - Mexican Restaurant
"Family-run mainstay for standard Mexican grub"
512-996-9349